SUBJECTS COVERED ON THIS PAGE
Robert's Musical Life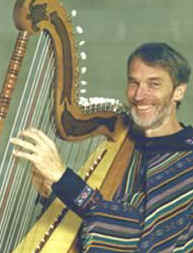 Robert, a contemporary master of the harp, lives in Mullumbimby near Byron Bay in Eastern Australia. He plays the Paraguayan harp at weddings, concerts, corporate functions, and gala events. Robert regularly tours, performing at country and metropolitan concert venues
Robert plays his original style of instrumental music on the Paraguayan Harp. The music draws upon European, Paraguayan and Celtic music styles producing what Robert calls contemporary romantic Australian harp music.
Robert travels teaching the harp in workshops and master classes. Recently Robert has written a "hands on" course of harp lessons for the Paraguayan and Celtic harps which are carefully aligned to the needs of all students from absolute beginners through to advanced players.

---
Robert's Musical Background and experience
I had been playing the Spanish Guitar for 20 years when I came across folk harps in 1987. Folk harps are lighter and smaller than concert harps. There are two popular types in use today Celtic and Paraguayan. I was fascinated by these instruments and their unique repertoire; While my mother was dying of cancer in 1987 I would play Alan Stivell's CD "A renaissance of the Celtic Harp" for her every day.
Upon arriving in Byron Bay in 1988, the interest in folk harps was still alive. In 1992 I attended a Paraguayan harp-building course run by Andy Rigby of Melbourne Australia. Upon returning to Byron Bay I built my first harp (a small 30 string plywood model), which worked well enough for me to learn to play to a semi-professional level. 18 months later, I built a full size Paraguayan Harp using plans obtained from the USA.
At that time, there were no harp teachers or influences in Byron Bay, so my music evolved on its own, inspired by recordings of Alfredo Ortiz, a great contemporary master of the Paraguayan harp, together with recordings of Paraguayan street musicians and Celtic players such as Alan Stivell.
In 1993 I attended The Australian International Harp Festival held at Albury NSW where Alfredo and others were giving master classes. This was a most inspiring weekend for me, and it took years to integrate and perfect what was shown in these classes. Soon after, I obtained a grant to build Paraguayan Harps.
Since 1993, I have composed over 80 pieces for the harp including songs and music for groups. More recently I have written and developed an interactive course of harp lessons which can be accessed on the internet. They are the basis for my teaching method, which has proven to be very effective and efficient in teaching folk harp playing in Australia. It will be released in book form early in 2004.
Robert currently performs and teaches the Paraguayan and Celtic harps, and holds workshops and master classes all around Australia.