Interactive Lessons
The instructions are written on the page and when you press the play button a green cursor runs along the score; at the same time you can hear how it sounds. This allows the lessons to be interactive.
Key to Finale Buttons:
Back:.. Go back one bar
Stop:.. Stops playing
Play:.. Commences playing at start
Pause: Pauses at desired place
FFW:.. Go forward one bar
Do not use any other buttons besides these.
If finale promps you to save any changes click NO.
Of course they are not a complete substitute for having a real teacher on their own, but they are very useful for my students to practice at home and to help those who do not have access to a teacher or a good harp tutor book. I plan to make these lessons available as a series of books which I hope will also be a valuable help to harp teachers who would like to have a logically laid out series of lessons and technical tips to assist them in their work.
Extra instructions about playing the lesson and fingering and posture are also added to the page
There are a series of free elementary lessons on posture music reading and basic harp playing designed to quickly and easily allow the student to progress playing the harp .
Some students who have have come for harp tuition and have consented to their pictures being shown here.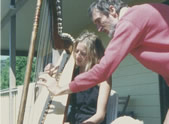 Hege learning the 36 Paraguayan harp which she later purchased and had sent to Norway